"What do I buy someone who has everything?!?"
That is the question that floats around in everyones head every December. Much like Groundhog Day, but it comes every 12 months. We do live very blessed lives indeed when our family members and circle of friends do not want for anything materially. Very much a first world problem. But a 'problem' nonetheless.
I know some people have opted out of the Xmas gift-buying thing altogether preferring to give gifts at times when they feel appropriate – kudos to you bro!
But for those who still do the gift-giving thing (for whatever reason), here's my stance. I refuse to buy any gifts unless they are really essential, useful, inspiring, sustainable, nourishing or soul-enriching in some way.
So with the above criteria in mind, here are some suggestions for gifts that won't sit on the shelf collecting dust and will make a truly positive impact on the lives of the recipient:
Did you know that activated nuts and seeds are ranked 3rd on the Dr. Mat Lalonde nutrient-density scale? Yes, really. However, nuts and seeds contains phytates which are anti-nutrients that reduce the bioavailibity of the minerals nuts and seeds contain and also can contribute to a leaky gut and destruction of enzymes needed to digest our food. Fortunately, soaking nuts overnight and dehydrating themat less than 50 degrees Celsius breaks down much of the phytates and improves bio-availability, making them more digestible and nutritious (than raw nuts) and not to mention more delicious. This process is nowadays called "activating" nuts and as an aside all traditional societies the world over properly prepared nuts in this way (though they would soak in rain water and then sun-dry). Thank goodness that we don't need to rely on rain and sun anymore but it is a labour of love to get our nuts so ridiculously crispy and delicious as we do.
I'm happy to be told otherwise, but I'm convinced that no one activates longer and with as much care as we do. Soaked overnight in reverse osmosis filtered water, organic apple cider vinegar (with the mother), and sea salt our certified organic nuts and seeds are then rinsed in filtered water and dusted with sea salt before being popped into the dehydrator ovens. No short cuts, no expense spared. It takes up to a whole week to get those macadamias and cashews super crispy. And almost that long for the rest of our nuts.
For Xmas I recommend a gift of the Snack Mix which is very festive (with gojis, coconut flakes, figs and mixed nuts) – it's the perfect blend of sweet and savoury.

You also can't go past our activated macadamias (that have been described as "life-changing") or almonds. The mixed nuts are also a good place to start for those who are not sure.
Our nuts are available in 3 sizes (120g, 300g, 500g) and some come in 30g snack packs. These are a nice addition to any hamper and make a lovely gift for a teacher, friend, household helper or someone who has enriched your life in some way.
*SPECIAL CHRISTMAS GIVEAWAY*

For the month of December only as special thank you to all my followers and customers we are giving away 1 free packet of 120g activated Snack Mix with every purchase on our online store!
Our selection of artisan chocolates, power bars, choc coated maccas, coconut balls, raspberry gummies and totally unsweetened carob bears were crafted by me after an exhaustive search of not being able to find anything in the market place that was up to scratch. Made without any refined sugar, soy lecithins, emulsifiers, milk powders or other nasties whatsoever these contain only pure certified organic ingredients. These are so pure that they must be refrigerated. We don't see that as an inconvenience, but as a sign of purity and uncompromising standards.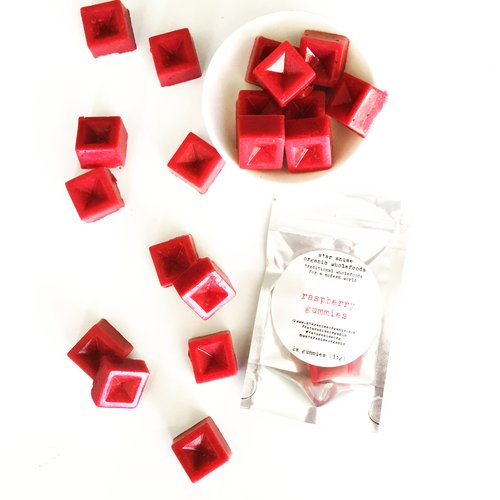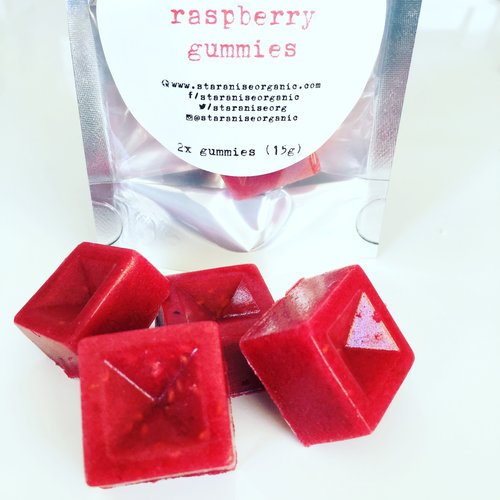 In terms of the sokolatas ('chocolate' in Greek) the fruit & nut sokolata is very festive as is the orange & chilli. There is nothing quite like these on the market.
Our raw treats and other products can be purchased from our online store or from my retail store Broth Bar & Larder or by emailing orders@staraniseorganic.com.
3. gift voucher for a workshop, health coaching session or for products
If you are still struggling to find the perfect gift, consider a Star Anise Organic Wholefoods gift voucher to the amount of your choosing. Vouchers can be used towards our products, workshops or a one on one health coaching session with me.
workshop voucher
To purchase either a products, workshop or health coaching gift voucher, collect from Broth Bar & Larder or to arrange for a voucher to be posted simply contact me directly on info@staraniseorganic.com or 0407 871 884.
4. bring in a hamper and we will help you fill it!
If you would like a selection of our products then feel free to bring in a hamper box for us to help you fill. In addition to all of the Star Anise Organic Wholefoods Products we also sell at a beautiful selection of artisan third party products like Toscana extra virgin cold pressed olive oil, Jakemans pure maple syrup and Red Boat (sugar free) fish sauce. These are 3 staples in my pantry that I use regularly!

You might also like to consider ready-made hampers from Little Kete that look stunning and are filled with nourishing wholefoods including our activated nuts and muesli.

5. essential oil starter kit with diffuser

I have available for sale some Young Living Premium Starter Kits with a diffuser. These kits contain 11 x 5ml essential oils plus a diffuser (and various samples).
I used to once think that essential oils just created a nice scent. After much research and personal experience, I now use Young Living essential oils as a beautiful and powerful adjunct to what I call the 8 foundations of health. They have turbo-charged my health by taking it to the next level.
But not all essential oils are created equal! Young Living is the largest and one of the oldest essential oil companies in the world. They produce the highest quality and purest essential oils on the planet, which have the highest frequency of any living organism on the planet, thus raising the frequency at which we operate when we use them. Young Living own the farms where the plants are grown to source the oils- so they have full control over the entire process from planting, harvesting, distilling to sealing the bottles. They conduct rigorous scientific testing of each batch of oils, conduct business ethically and have a huge philanthropic commitment.
The Premium Starter Kit usually retails for $320 (including shipping) but I am selling them at the wholesale price of $260 (which is the price they cost me including shipping). This is extraordinary value that offers a comprehensive introduction to the power of essential oils.
These oils can be used:
in conjunction with or in place of your personal care products (eg as a face moisturizer with carrier oil)
in place of your household cleaners
to purify the air in your home
to boost your drinking water
to add to nutrients and flavour to food
to calm our nervous system and help manage stress and anxiety
to detoxify our body
to relax tight muscles
for massage with a carrier oil
to induce deeper sleep
to aid digestion
These Kits are only available for purchase at Broth Bar & Larder in Bronte. For those who purchase a kit I will personally explain each oil to you, the various ways in which to use essential oils and how to use the diffuser. Once you purchase the kit (or if you are considering purchasing the kit but want more info) please call me directly on 0407 871 884 to set up a mutually convenient time for me to explain the kit to you. I will continue to run more essential oil workshops in 2017- both introductory and advanced – due to the demand shown this year.
6. a session with The Body Magician

Gifts don't have to be a physical thing. What about gifting an experience?
A session with Bruce Scott (aka The Body Magician) is what I would call nothing short of an experience. When I walk in the room he says "come fly with me". I can't describe in words what exactly he does but it involves a lot of trust, some acrobatics, stretching, massage, and releasing. He combines a lot of different modalities to provide something truly and wonderfully unique.
After every session I walk out deeply deeply relaxed, in a way that I have never experienced before. Check out his website and FB page (and the videos of what he does!). For the person who seemingly has everything, this is just the ticket. Tell them to close their eyes for the whole session and enjoy the ride!
I am buying a few sessions for some special people in my life as well as my daughter for her birthday in January as she has been begging me for such an experience after I tell her about it.
7. Learn to meditate course
Why not give someone the gift of learning how to experience more stillness in their life? The effects of learning how to cultivate more calmness while raising consciousness are far-reaching and profound.
Tom Cronin is one of Australia's foremost meditation teachers and runs courses for both adults and children. I am currently doing one of his group meditation courses and have also signed my kids up for his kids course later in December.
I think one of the most powerful things you can learn is how to stay calm amidst the chaos of our busy lives and how to create more pockets of stillness in our life to give our busy minds time to recharge. And the earlier we learn these skills the better. Even if you have nailed all of the other foundations of health- a nutrient-dense wholefoods diet, functional movement, quality sleep, and spend time in nature and with loved ones- if you are stressed and mentally fatigued, your health will be compromised and you can't reach your true potential. Feeling overwhelmed with a massive to-do list and flying from one task to another all day long is something that I have battled with for a very long time. By taking the plunge to book myself into a meditation course was my way of providing some formal structure to a daily meditation practice to give it the importance it deserves.
There are also other highly experienced meditation teachers in my community like Tim Brown and Grant Lyndon that you might also like to check out.
8. Extended xmas trading hours

Broth Bar & Larder will be open Thursday 22 December until 9pm to allow you extra time to purchase your last minute Xmas goodies. We are offering a free glass of our water kefir, a handful of our activated nuts and some raw treats to all customers who come between 6-9pm. We can also wrap your gifts or hamper in cellophane and tie with festive ribbon. I will personally be there and am excited to share a little festive cheer with you!
9. Public Holiday Closures
Broth Bar & Larder will be closed for the public holidays only and will be otherwise open for trading every day 8am-6pm.
I will be available for health coaching sessions throughout the entire school holiday period both during the day and in the evenings. To book simply call/text me directly on 0407 871 884 or complete the online form.
10. Thank you for your overwhelming support!
What a year it's been! Broth Bar & Larder is coming up to 1 year old (we will be having a special 1 year birthday party celebration soon so stay tuned!). And just like the mother of a newborn, I feel like I've been strapped into a rollercoaster with mind blowing highs and equally deep lows. But that's life (especially when you throw a retail store, a cooking school, a health coaching practice and 2 young kids into the mix!) and it's how we roll with it that defines us. Some things we got right, and some things we are still learning and fine-tuning. Thank you so much from the bottom of my heart for your overwhelming support, loyalty, touching feedback, advice and patience. I am committed to constantly striving for excellence in all that I do to grow and take our products and service offerings to the next level. I take feedback very seriously and am always available to take yours on board.
I am so excited about what 2017 will bring. I have some really cool things to roll out including new products, new workshops and hopefully my 1st cookbook will take some shape!!
And remember that for the month of December only as special thank you to all my followers and customers we are giving away 1 free packet of 120g activated Snack Mix with every purchase on our online store. This is my little Xmas present and thank you to YOU! Without YOU what I do would not be possible.
I DO NOT RECEIVE ANY KICK BACKS FROM ANY SUPPLIER. I SIMPLY PROMOTE BUSINESSES WHOSE PRODUCTS OR SERVICES I PERSONALLY USE AND WHO HAVE A SIMILAR ETHOS TO MINE. MY BLOG STARTED OVER 6 YEARS AGO AS A WAY OF EXPRESSING MY LOVE FOR REAL FOOD AND THINGS THAT MAKE ME TICK. I LOVE SHARING WHAT I KNOW. I HOPE YOU ENJOYED READING THIS NEWSLETTER AND ON BEHALF OF MY TEAM AT BROTH BAR & LARDER, I WISH YOU ALL A NOURISHING AND SOUL-INSPIRING XMAS!
SOULLA X