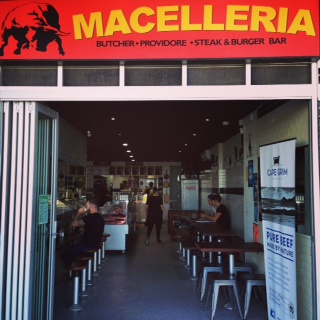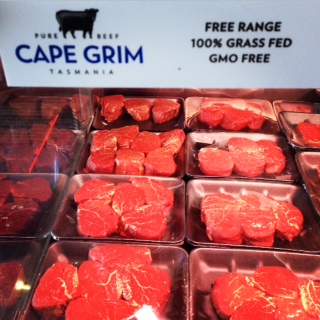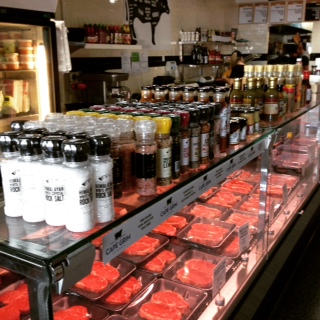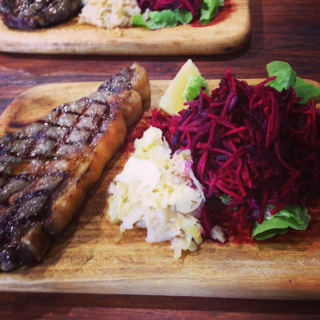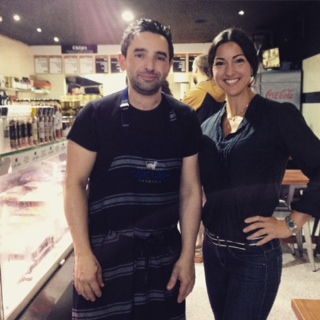 Macelleria (which means "butcher shop") was born in January 2015 from a desire by French / Lebanese owner Peter Zaidan to take the now closed butchery/salumeria La Macelleria (which he operated just around the corner in Curlewis Street) to "a whole new level". In a recent interview with him, Peter told me that he "wanted to showcase quality meat on a finished scale and make the best cuts of meat accessible to the masses at a fraction of the price that they would pay in a restaurant."

On offer is grass fed and finished steaks and burger patties from Cape Grim in Tasmania along with some grain fed meats. There is also half or a quarter of a butterflied free-range chicken. All meats and poultry are antibiotic and hormone free. All the food for the main meals is prepared in-house.

Macelleria is located smack bang in the heart of Campbell Parade near Hall Street across the road from iconic Bondi Beach. It has a very casual walk-in-from-the-street-or-beach vibe. Swimmers and thongs are totally acceptable (if not mandatory in summer). There is no menu. The various burgers are written on the back wall. You simply choose between a burger, or a steak, or the cooked chicken. You then sit in a booth or on a bar stool and breathe in the ocean air.

The burger patties are made from 3 different cuts of grass fed and finished Cape Grim meat without any off-cuts, trimmings, binders or fillers- just 100% meat. The buns are made from unbleached organic flour (or you can ditch the bun altogether if you want a grain free option) and sweetened with honey. I asked Peter if he intended to move to sourdough as opposed to yeasted bread but he dismissed the idea.

If you opt for a steak (like I did), you pick the exact cut of meat you want from the selection of fresh uncooked meats laid out in the counter (exactly like a butchery) and the way you want your steak cooked (e.g. rare, medium). This is what makes the place unique- being able to choose your piece of steak and getting them to cook it for you! Much like those Chinese restaurants where you choose the lobster or crab from the fish tank as the subject of your meal.

To accompany your steak, you have a choice of salads or roasted vegetables.

The salads are $4.50 each. The beetroot, incaberry and carrot salad was amazing. Sauerkraut (fermented cabbage made on premises) can be included as a condiment and is also included in some of the burgers.

In terms of the roasted vegetables, this is what you need to know. The steakhouse potato chips and sweet potato chips are deep fried in sunflower oil. While Peter appreciates the adverse health implications of industrial seeds oils (of which sunflower oil is one) and said that he would prefer not to use a seed oil, he couldn't find a practical cost effective alternative. [Anyone feeling entrepreneurial step this way!]. The good news is that as an alternative Macelleria offers roast potatoes and sweet potatoes cooked in olive oil and/or Pepe Saya ghee. High 5! So make sure you ask for those ones!

A piece of 200g grass fed Angus striploin steak ($10) cooked rare, with salad and kraut ($4.50) set me back $14.50 in total. Excellent value for a nutritious meal I'd say!

The cuts of steak and types of salads on offer change frequently depending on what is available.

Cups of beef bone broth (stock) made from Cape Grim beef bones are sold for $8. They didn't have any stock available when I was there so I can't comment on that.
You can buy any of the fresh uncooked meat to go (as per a butchery) as well as a selection of cold cured cuts and some cheeses. In the fridge is Spring Wellness gluten-free sprouted bread and coconut water along with conventional drinks and soft drinks. Packets of biltong are found on the counter for a take away snack.

If you pick and choose from the options wisely, it is definitely a place I would recommend and happily go to, especially if you wanted a quick, casual, dine-in or take-away, affordable, nutritious meal reminiscent of home. And more than that, this is a place that I would take (and have taken) über health-conscious friends.
Ok, so what I mean by choosing from the options wisely is this:

1. I personally would go for the grass fed and finished steaks (as opposed to the grain fed ones)
2. I would ditch the yeasted bun if opting for the burger
3. I would opt for the veggies roasted in olive oil and ghee as opposed to sunflower oil (or just have a salad)
4. I would definitely have the side of sauerkraut!
5. I would need to do more due diligence on the cured meats before I bought those
6. I would steer clear of the salmon as it would be farmed. Read my blog post here for more about farmed versus wild seafood.
On the 2 occasions I ate there recently (for lunch and dinner), I was super impressed by the quality, taste, meal size, presentation, fast service, and friendly and helpful staff (yes they happily indulged my 247 questions!).

Macelleria is open 7 days, 10am until 9pm, for lunch and dinner (though they had no qualms in keeping the place open well after 9pm until we finished our meals - a nice gesture of going the extra mile).

Peter says that there are no plans to open further stores at this stage. I'm tipping that this steak and burger bar is sure to be a hit with tourists as well as health-conscious locals. Peter tells me that Chef Pete Evans pops in for a burger on occasion. While I can't guarantee that you will bump into Pete Evans, I'm pretty confident that you will enjoy your meal!